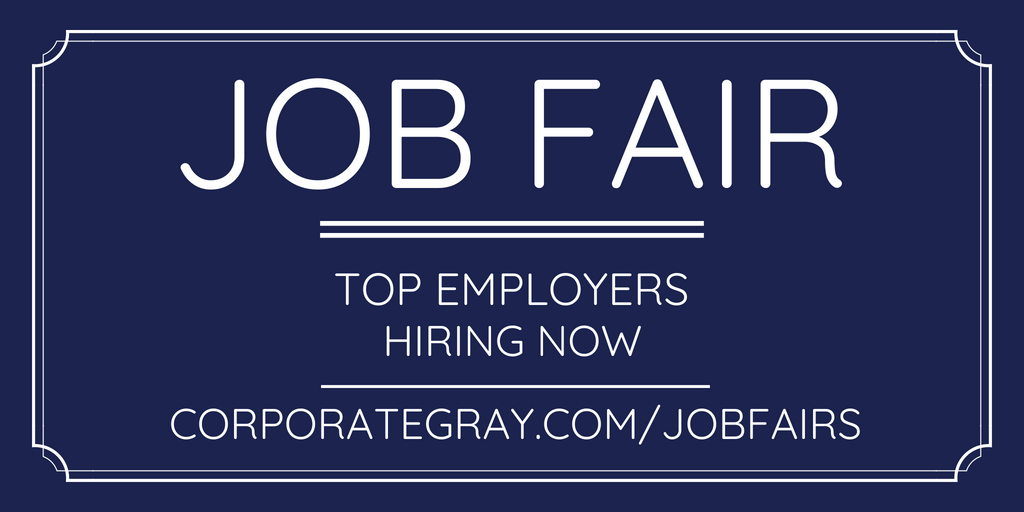 We asked attending employers at a recent Corporate Gray Military-Friendly Job Fair a few questions to see what advice they have for job seekers. Below is the take-away advice along with a synopsis of their answers…
TAKE-AWAYS
Recruiters from executive recruiting firms come to job fairs looking for certain skillsets – for current as well as future openings. Research the companies ahead of time so you come prepared to tell the recruiters what you do and how you can help them – how your skills are a match for their needs.
Hand out your resume if they ask for it, but also apply online for remote jobs as well to get more visibility to all recruiters in the company. Don't be discouraged if companies don't want a paper copy of your resume – some companies only accept online applications.
Meet as many recruiters as possible and follow-up with the companies in which you have interest. Be persistent in contacting recruiters after the event to stay on their radar. Use your network to make connections at companies to learn about future opportunities not yet posted.
Stay positive and have realistic expectations. You may not be a match now but might be for future opportunities. Again, be persistent in following up with the recruiters you meet as well as people in your network who work there.
Q&A SYNOPSIS
Why do you attend job fairs?
Bill: There's value in getting exposure to cleared candidates. I am selective in which job fairs I attend. The Corporate Gray events draw quality companies and quality candidates.
Tim: We attend job fairs to get exposure to candidates.
Michael: I'm looking for a specialized skillset. There is a demand for candidates in the operations research field. Candidates with military or DoD experience come with the skillset of language and organizational structure.
Sean and Richard: We are looking for certain skillsets.
Dave: I come to find top talent in this area that matches our needs. We are selective about which job fairs we attend. Corporate Gray is one of the quality event organizers.
Benjamin: To meet candidates not on our job board and to recommend jobs to candidates that they might be good for. We attend these job fairs to meet quality candidates.
Brian: We attend job fairs to screen candidates for specific positions we are trying to fill.
Crystal and Tanya: We come to meet new candidates for current and future positions.
Do you collect resumes at the job fair?
Bill: If the candidate's skillset is in our wheelhouse, we put their resume in "pile 1" to reach back out to them. I'll give them my business card and ask them to send me an email with their resume. The hard copy has limited value, whereas the soft copy can be shared with my colleagues. If a resume goes into "pile 2" we take a look at it and file it for future opportunities.
Tim: We take resumes, but we urge candidates to apply online. Then the whole team of recruiters has access to the candidate's information. When you apply online, designate the source as job fair, and you can specify in the notes that it was a Corporate Gray event.
Michael: We take resumes electronically. There is a shift in presenting your interest to the employer. It's more important to present your "pitch" rather than your resume.
Sean and Richard: We collect resumes, scan them, and share them with our colleagues. We also ask candidates to apply online.
Dave: We collect resumes. As a Military Relations Project Manager, I market the resumes within the company, trying to promote the military candidates.
Benjamin: We collect resumes at the event and share them with recruiters in our company. For this job fair we flew a recruiter in from Texas to meet with candidates.
Brian: We take resumes and keep them at our corporate office. If a candidate is not qualified for a position now, we'll have their information to reach out to them later.
Crystal and Tanya: We collect resumes to share with hiring managers. You still must apply online for OFCCP compliance. We hand out pamphlets about the company and give candidates our business cards.
What advice do you have for candidates?
Bill: It's important for the candidate to follow-up after the job fair. If you don't get a response, be persistent. When an opportunity comes up you'll be at the top of their mind if you had recently made contact.
There is value in seeing all the companies at the job fair and knowing what's out there. Look online at the companies' opportunities. Know what the company does and how you can help the company.
At the job fair you can find out about future proposals that aren't posted yet. Often times the recruiters know what opportunities might be coming. Use the job fair as a networking opportunity. Almost 50% of our hires are from our network.
Tim: Tell the recruiter exactly what you want to do – be targeted and know your goal. That allows for a fluid conversation.
Michael: Do your due diligence on those companies that interest you. Research the companies and do your homework so you can tell them how you're a match to their needs. If the company encourages further education, let them know that you're interested in academics for your future.
Sean and Richard: Meet as many recruiters as possible, and keep an open mind. Networking is important.
Dave: Talk to everyone, as you never know who will be right the fit or will know of an opportunity you should pursue. Even if you're not a match for my company's needs, I will skim your resume and provide tips, or I might know who you would be a good match for. I'll also give candidates tips on the application process. Get comfortable speaking with recruiters and giving them your personal branding spiel.
Some don'ts: don't staple your resume, don't print on front and back, and don't give out your DD214 form. If you're active duty and a Virginia resident, the American Legion Post 180 in Vienna is paying for your first year of membership.
Benjamin: Bring resumes, talk to people at the door when you arrive to get comfortable with conversations, and have a pitch of your career highlights ready.
Brian: Have realistic expectations. You probably won't get an offer at a job fair. It's about making contacts. Be confident, dress well, and don't have typos on your resume. Give a positive attitude and firm handshake. Sell yourself, believe in yourself, but don't be over-confident. Strike a balance.
Crystal and Tanya: Be prepared – your conversation with be more effective and efficient. Come early to allow time for good conversations. We are building a pipeline of candidates for the future. Don't be discouraged if you aren't a match now. Keep your resume to two pages and include your clearance. Put the most important information at the top of your resume. Include a summary/objective that tells about you and what you're looking for.
Visit www.CorporateGray.com/jobfairs to view the upcoming Military-Friendly Job Fairs.
__________________________________________
Thank you to these employers for sharing their thoughts and advice:
Bill Puttmann, Vice President, Human Resources, Advanced Concepts and Technologies International (ACT I), http://act-i.com/careers
Tim Causa, Manager, Talent Acquisition, PenFed Credit Union, www.penfed.org/careers
Michael Niles, Research Staff Member, Institute for Defense Analyses, www.ida.org/CareersAtIDA
Sean Jackson and Richard Agee, Recruiters, General Dynamics Information Technology, www.gdit.com/careers
Dave Wallace, Military Relations Project Manager, Lockheed Martin, www.lockheedmartinjobs.com
Benjamin Mena, Senior Recruiter, DynCorp, www.dyn-intl.com/careers
Brian Freeman, HR & Security Assistant, PE Systems, www.pesystems.com
Crystal Perry and Tanya Colomb, Recruiters, ARServices, www.arslimited.com/careers