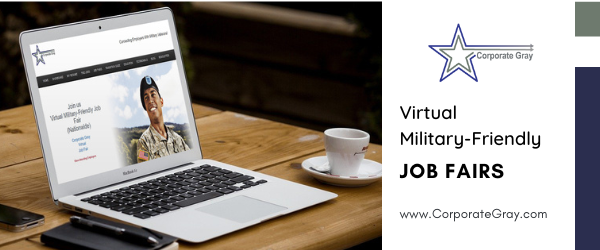 Prior planning and research before attending a Virtual Job Fair will help ensure you meet with the recruiters most relevant to your job search and help you make the most of those brief conversations.
Register Early
Registering for the event will give you access to the lobby and company booths, and you will receive a Guide, video tutorials, and an Employer Directory to help with your research and preparation. Also use the Job Fair page on Corporate Gray Online to learn more about the Attending Employers, search their jobs, and view your LinkedIn connections at those companies.
Polish Your Resume & LinkedIn Profile
Review your resume and LinkedIn profile to make sure they are polished and accurate. As you research companies and jobs (see below), you may want to revise your resume to best reflect the skills you have that are most relevant to the jobs your are targeting.
Once you have registered, recruiters will have access to your profile and resume, so you may even hear from them prior to the event.
Research the Attending Employers
Registered job seekers get early access to the event lobby. From there you can visit the booths and further research the attending companies. Browse the company information and visit their websites to learn more from their Career pages.
Familiarize yourself with the virtual platform being used for the event. Explore the menu navigation, test your video, and browse the booths ahead of time to get comfortable with the platform.
Use additional resources, such as LinkedIn, GlassDoor.com, and Manta.com, to learn as much as possible about the companies. Jot down questions that come up during your research to ask recruiters about when you meet with them.
Reach Out to Your Network
Use LinkedIn to find your connections to those companies. When searching for people on LinkedIn, use the "Past Company" filter and enter your military branch to find fellow veterans who work at those companies. Reach out to your contacts to initiate an informational interview, asking for information about the company and specific jobs that align well with your background. Keep track of your contacts using a worksheet like this.
Prepare Questions
Prepare a list of questions to ask the recruiters at the event. Asking questions based on your company research will demonstrate your interest in the company and that you cared enough to take the time to learn more about the potential employer.
Prepare Answers
Give careful thought to the questions recruiters will likely ask you. Some possible questions are:
Why are you interested in our company?
What do you know about us?
What type of work are you seeking?
Which of your skills are you most interested in leveraging?
How would you characterize your leadership style?
What are your salary requirements? (a ballpark range)
When are you available to start work?
In your answers, articulate what you are looking for, what your skills are, and why you are a match for their company. Keep your answers short and to the point since the conversations with recruiters will be brief.
Search and Apply for Jobs
Search the job opportunities of the attending employers to find jobs of interest. Apply to those positions that seem to be a good match for your skills and experience. Take note of the specific positions and be prepared to speak to how you are match when meeting with the recruiters.
Research the requirements for the openings that interest you and apply for jobs that are a fit with your skills and experience. Then follow-up with your company contacts letting them know to which jobs you applied.
Take Notes
Document your research, questions, answers, and job applications in an organized, easy to retrieve manner. Your notes will be a valuable reference for you during the event.
Preparation is Key
When you are prepared for the Virtual Job Fair, you will feel less pressure and stress leading up to and during the event. Preparation gives you a head start to make the most of the conversations you will have with recruiters.
Corporate Gray Virtual Job Fairs are free to job seekers and are especially for transitioning service members, veterans, and military spouses. View the upcoming Corporate Gray Virtual Military-Friendly Job Fairs and start preparing today!
Related Articles
How to Work a Virtual Job Fair