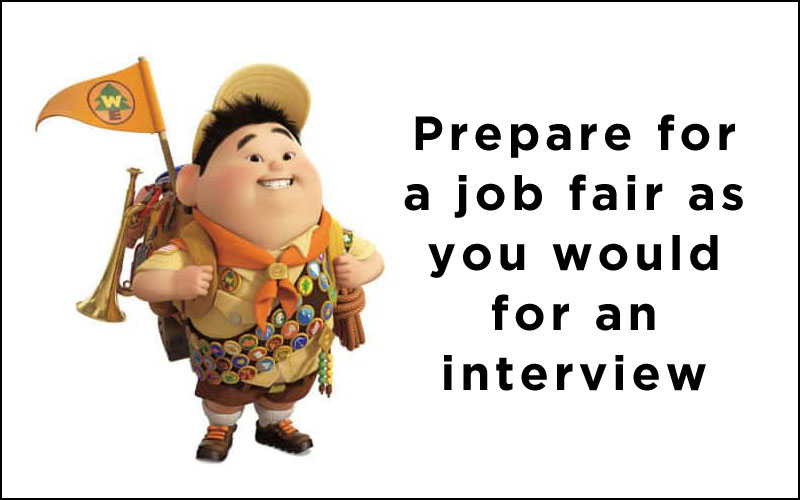 You already know the importance of researching the company before a job interview. But did you know this preparation is just as important before attending a job fair? We encourage candidates to research the attending companies ahead of time to help you make the most of your brief interaction with each recruiter at the event. That's why we prepare the Employer Directory early and distribute it a week prior to the event.
The Employer Directory lists the participating companies with a brief write-up about each along with the key positions, or "hot jobs," that they are focused on filling. It's a good place to begin your research and preparation for the event. After reviewing it and noting the companies that might be a good fit, continue your research in this way:
Research the companies online – In addition to visiting each company's website, use sites like Manta.com, Hoovers.com, and CEOexpress.com to understand their business plan, to gather as much information as possible about the company. Document your research in an organized, easy to retrieve manner. Prepare a list of questions to ask the recruiters at the event. Asking questions based on your company research will demonstrate your interest in the company and that you cared enough to take the time to learn more about the potential employer.
View the companies' job openings in advance of the event – Search the company's job board, LinkedIn.com, or other sites like Corporate Gray Online for the company's job openings. Research the requirements for the openings that interest you and apply for jobs that are a fit with your skills and experience. Then follow-up with your company contacts letting them know to which jobs you applied.
Use LinkedIn to find your connections to those companies. Reach out to your contacts to initiate an informational interview, soliciting information about the company and specific jobs that align well with your background. Keep track of your contacts using a worksheet like this.
Connect with fellow veterans – Use the VetFriends Veteran Registry to find fellow military veterans for more sources of informational interviews. You can do an advanced search by current employer. Your fellow veteran network can be a great support system for your transition and job search.
Pre-register for the event – This will not only make your resume available to the participating companies beforehand (provided you've uploaded it to your Corporate Gray Online account), but it will also ensure you receive the Employer Directory from us as soon as it is ready. Start your research early and come prepared!
To view the calendar and register for an upcoming Corporate Gray Military-Friendly Job Fair, visit https://www.corporategray.com and click "Job Fairs" in the menu bar. Our Military-Friendly job fairs are free to job seekers and especially for military-experienced candidates.
Related Articles
Job Fair Advice from a Recruiter Perspective
Taking the Initiative in Following Up
Tips for Attending a Virtual Job Fair