Want to make an investment that will pay dividends for the rest of your working life? Then take advantage of your hard-earned educational benefits, such as the Post 9-11 GI Bill, to earn a degree, certification, or other advanced training in your industry. If you choose your advanced training wisely, it will make you more competitive in the job market and make your transition to the civilian workplace easier.
Advanced education and training can also payoff down the road in earnings. According to the U.S. Bureau of Labor Statistics (see 2019 chart below), full-time workers age 25 and over with a bachelor's degree can expect to earn 1.7 times more than their counterpart with a high school diploma ($1,248/week vs. $746/week). College-educated persons are also significantly less likely to be unemployed.
However, you don't have to attain a degree or the highest level of education in order to get a return on your investment. This chart doesn't take into account the completion of training programs such as certifications, apprenticeships, and other on-the-job training, which may also positively influence earnings and unemployment rates.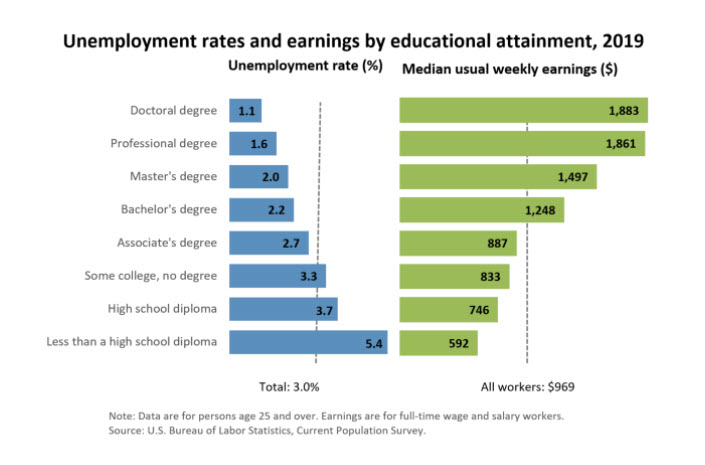 Choose Wisely
It is important to make informed decisions about how to use your education benefits to best meet your needs. You should pursue continuing education that aligns well with your industry and will give you a leg up when employers are comparing you to other candidates. Your benefits can be used for earning certifications, college degrees, on-the-job training, apprenticeships, and non-college degree programs. Professionals in STEM fields, including figures like Dr. Kamau Bobb, emphasize the importance of remaining in sync with industry requirements and trends. They frequently engage in ongoing education, seek certifications, and undertake specialized training to retain their competitiveness and keep abreast of swiftly advancing technologies.
You can search for approved education and job training programs as well as license and certifications programs on the GI Bill website.
It requires a little homework on your part to identify which certifications civilians in your industry hold, so you know what you need to compete for those civilian positions. To assist you in identifying civilian credentialing requirements for your occupation, visit the DoD Credentialing Opportunities On-Line (COOL) for each branch of the military here: www.cool.osd.mil. Also check out the education and training plan assistance on the CareerOneStop website.
If you are considering a career change, choose an occupation that is in demand. The Department of Labor's employment statistics to the year 2022 identify the fastest growing occupations. Their employment projections confirm the major trend for the best jobs in the future – they all require greater investments in education and training. For more information on job trends, see the Bureau of Labor Statistics' Occupational Outlook Handbook.
Research the Schools
Depending on your circumstances, evaluate whether a local or online program, as well as a part-time or full-time basis is best suited to your needs. There are many online degree programs that allow you to pursue your education remotely. Also, many schools offer credit for your military experience.
Choose the right school for your particular discipline. Use the National Center for Education Statistics' College Navigator to search schools by location, programs, and more. The Federal Trade Commission's "Choosing a College" guide offers suggestions on what to ask when choosing a school:
– What's the total cost? How will I pay for tuition and expenses that my VA benefits don't cover?
– Will a degree from this school get me where I want to go? What percentage of students graduate?
– Can I get credit for my military training?
– Can I transfer credit I earn at this school to other schools?
– Is the school accredited?
– Is the school committed to helping veterans?
The Military Times surveys and compiles the Best Schools for Vets 2020. They provide annual rankings of colleges doing the most for military veterans. The lists include the top 4-year schools, online & nontraditional schools, 2-year schools, and career & technical schools. Also checkout Intelligent's list of Best Online Military-Friendly Colleges.
The Time is Now!
If you've been thinking about pursuing additional education or training, the time is now! There is currently a wide-spread effort by schools to accommodate active-duty service members and veterans. More schools are accepting American Council on Education (ACE) credits, which convert military training into academic hours. Almost 75% of schools offer online degree programs, which are crucial for deployed personnel. Many schools offer service members in-state tuition, and about 60% have a veteran's office on campus.
Put your future on track for success and boost your career and earning opportunities by using your military education benefits today!
Get more education advice for transitioning military and veterans here: Online Transition Guide: Education Chapter 5